During one of my first solo trips to Sardinia, I met Andrea Melis, someone who, by his own definition, "hangs out with poetry" (he's way too modest to define himself as a poet).
Some meetings don't just happen by chance. In recent years I have met some people who have totally changed my way of seeing life. Each of these people is inextricably linked to the sea. And it can't be a coincidence.
His words and my typefaces are magnets. They are verses that migrate, cross the sea and arrive here, in my studio in a very natural way. When they knock on the door I let them in. They overwhelm me. Always. And my hands often start composing automatically, for fear of losing that feeling of amazement and identification that they want to convey onto paper.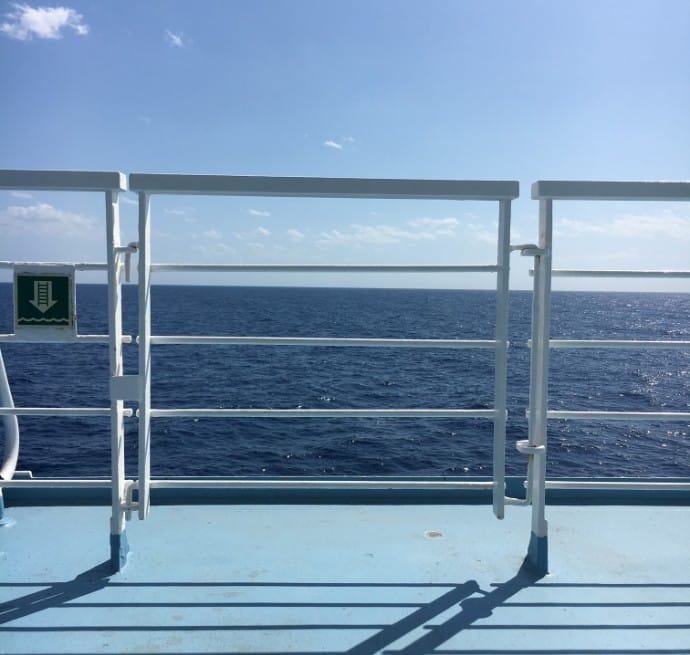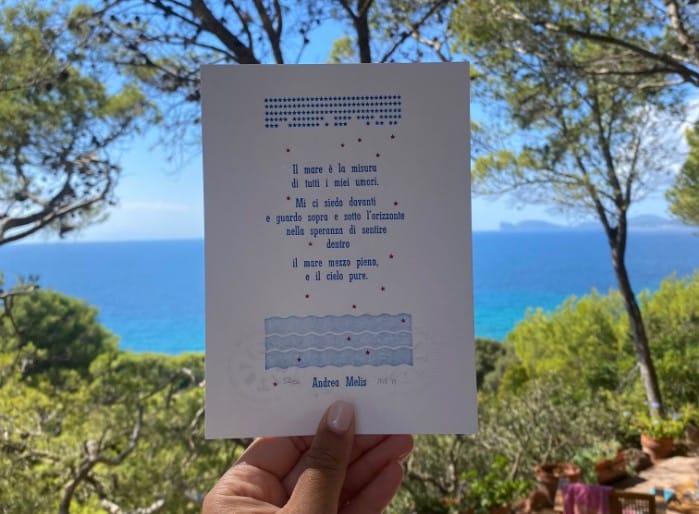 IL MARE MEZZO PIENO (THE SEA HALF FULL)
The "Il mare mezzo pieno" is a verse that came to me suddenly, via Whatsapp, a few days after returning home from Sardinia: "…it's yours, do what you want with it."
The typographic atelier is a place of exchange, experimentation and – sometimes – boundless poetry.
This is especially true of this particular composition: an open letter, a love letter to the sea. Andrea Melis's words cross the water, fly over the sea and arrived at my door in the most natural way. two colors and 151 tiny stars patiently positioned by hand, for a Limited Edition of 100 copies
NOI SIAMO SOGNATORI (WE ARE DREAMERS)
We live in the era of communication, we're all connected with others, but very little with ourselves. Thus, in this world governed by algorithms, dreamers can be recognized at first glance and by their eyes, that shine even through broad daylight…
Here is the masterpiece poem of my friend Andrea Melis, slid under the press machine.
Andrea Melis and I both work with the alphabet and ink. He writes, I print. Thus, in this world governed by algorithms, dreamers can be recognized at first glance a nd by their eyes, that shine even through broad daylight…
In Andrea's bio we read: "I had everything I needed to live, but I could no longer survive the siren call of my dreams.". His dreams really DID come true: he went from working in a call center, to self-publishing, to finally have his work published by Feltrinelli Editore.
"noi siamo sognatori
ci riconosciamo al primo sguardo
ci luccicano gli occhi anche in pieno giorno"
È lì, ma non si sa come o per quanto.
It's there, but we don't know how or for how long. Is not enough. Because you need a professional, with a precise authorial gaze, to create a photograph that is not simply beautiful, but that has a meaning, a plan, a story. During RICORDI more than 450 people had their photographs taken.
Photography, like artisanal typography, is a trace left on a path, testimony to a moment, an instant, a hand that stops time. And when you can hold a photo in your hands, instead of looking at it through the screen of a smartphone, well, that's magic.
Another beautiful poem by Andrea Melis, again, yet more paper and ink for these words that remind us that dreaming is the most beautiful revolution to implement.
As usual, this is a limited edition. There are 65 copies, inked and printed manually with typographic proofers, on handmade cotton paper from the Paper Museum in Mele (GE).
His latest book is called "Libertà. Storie di rivoluzionari per ragazzi che vogliono cambiare il mondo" ("Freedom. Stories of revolutionaries for kids who want to change the world"), and has been released in 2020 by Feltrinelli Editore.